When can I share the verified report?
As a facility, once you have been notified that the verification process is complete, you can share the verified assessment with your business partners. You can do this from the Gateway as well as from the AHs.
Facilities can share their verified assessment through the Accredited Host (AH) with AH users by following the specific instructions for each AH. Below is the general explanation and the links to the FAQs for each AH.
How do I share my verified assessment via the Gateway?
Step 1: Log in to your Gateway account.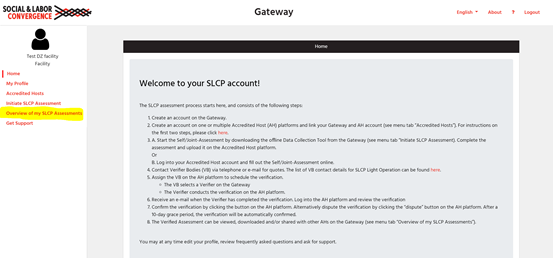 Step 2: Click on the "Overview of my SLCP Assessments" (see above screenshot). A list of assessments appears. There are multiple ways to share a verification report. The options are on the right-hand side.
When you click on the "View Assessment" icon above, it will take you to the next screen. You may convert the assessment to PDF format, then save it.
How do I share my verified assessment via email?
After choosing "Share via email" on Gateway, fill out the form with the email address you would like to send the report to. The email recipient will receive an email with a link to access the report.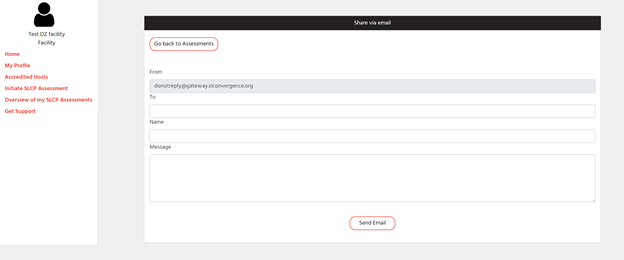 How do I share my verified assessment to another Accredited Host?
Click "Share with another Accredited Host" link
The links to the Accredited Host (AH) will appear on the screen after you have linked your Gateway and Accredited Host accounts. Click on the checkbox on the left side of the Accredited Host you would like to share the report with, then hit "Share".
Now that the assessment has been shared with other AHs on the Gateway, log back into the applicable AH to continue the sharing process with other users on the AH platform.
How do I share my verified assessment via the Accredited Host platform?
On each Accredited Host (AH) platform, a facility has to grant permission to an AH user (normally a brand) to view the final verified assessment report. With permission, the brand can view where in the SLCP assessment process the facility is, and have direct access to the final verified assessment.
When the assessment is finalized (VRF status), brands (through their user interface on the Accredited Host platform) will see a token/link to access the final verification report. The AH may offer additional services, e.g. calculate a facility score based on the raw data in the verified assessment report.

For more information about specific Accredited Host platforms, use the links below.
Inform your customers that you can share your verified assessment with them
Below you will find a message that you can use to explain what an SLCP assessment is and how to use it. Facilities can send it to their customers to let them know they have an SLCP verified assessment available to share with their business partners.
Resources: