We warmly welcome signatories that are interested in training facilities on the SLCP process and system to become Training Bodies. SLCP will prepare Training Bodies so that they are able to deliver information correctly and consistently.
We have developed modules for two type of training sessions:
Introductory sessions: explaining the SLCP mission and vision, and the SLCP process and system on a high level with the objective to engage "newcomers" in SLCP (three modules available).
Deep-dives: explaining a part of the SLCP process and/or system in detail with the objective to help facilities that are already aware of SLCP to complete their SLCP assessment (five modules available).
For both types of training, Training Bodies need to go through an application process. For the deep-dives, the application process is slightly longer. Both processes include completion of the seven modules of the Trainer Course and Certificate, available via https://slconvergence.org/training. Register as a Trainer for automatic enrollment in the Course.
Only SLCP signatories can become Training Bodies. For the introductory training, no previous qualifications are needed. To deliver the deep-dive training, we are seeking organizations that meet our criteria for an Approved Training Body. See the criteria below.
Trainer criteria below.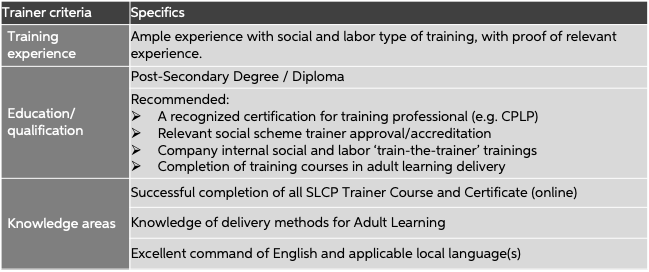 Start the application process by filling in the Training Body Application. You will receive information about the next steps thereafter.
After successfully completing the application process, Training Bodies will sign a Terms of Use (ToU) to gain access to the available training modules that can be "mixed and matched" to develop customized training sessions.
There are no fees to become a Training Body or to conduct SLCP training in 2021. We do request a commitment from TBs to contribute to improvement of training materials by providing feedback in bi-monthly calibration webinars. This set-up will likely change in the future.
Contact us via training@slconvergence.org if you have any questions or want to know more.