In order to complete an SLCP assessment, facilities must first register on the SLCP Gateway. You register by creating an account and filling in your profile information. Once you have filled your profile, information, you submit the profile to SLCP for approval. The profile must be approved by SLCP before you can start an assessment.
Follow the guidance below to register on the Gateway. Watch this video to see a demo.
1. Go to SLCP Gateway: https://gateway.slconvergence.org/login
On the login page click on ''Click here to create an account.''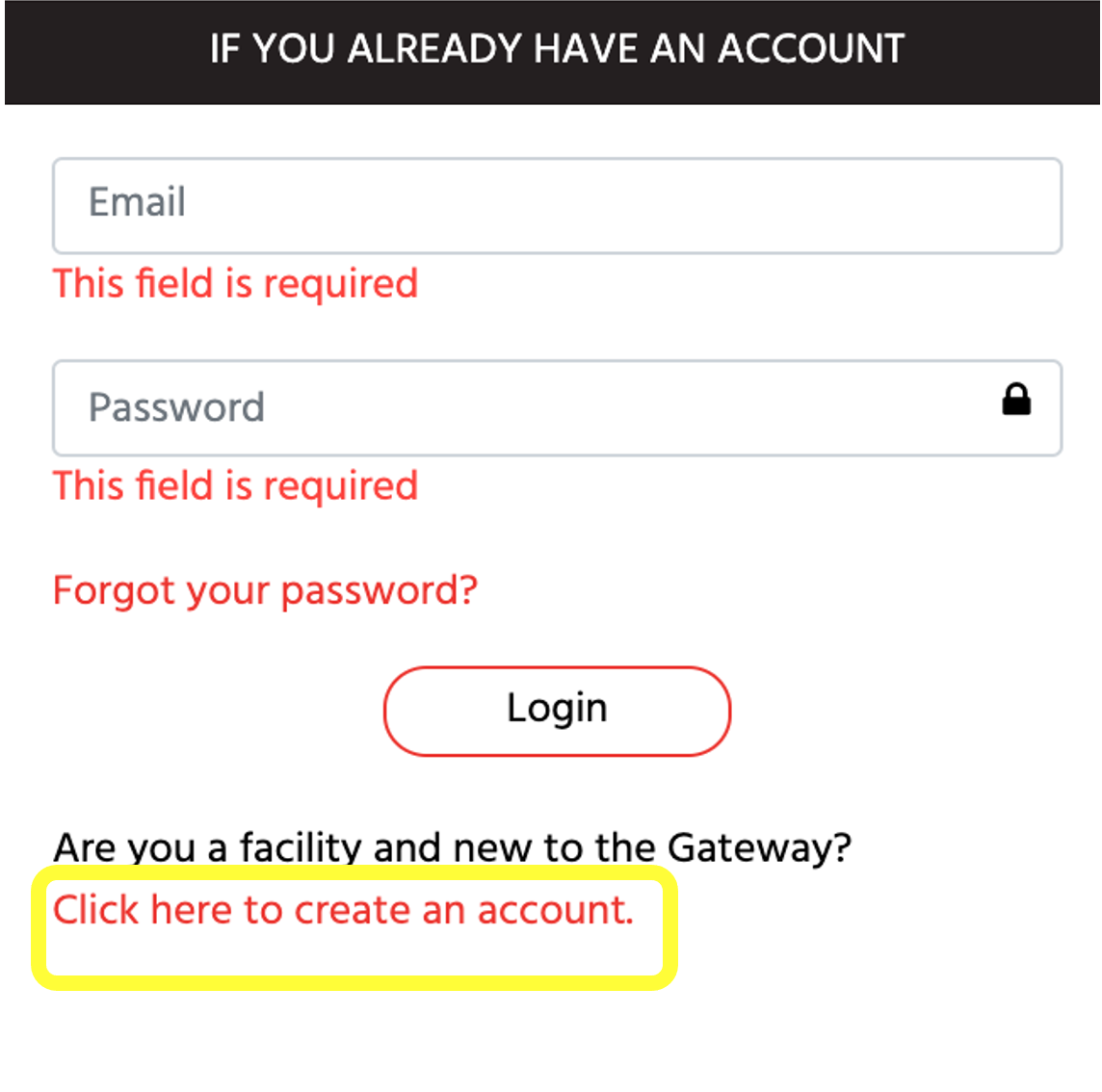 2. Fill in the required information on the registration screen. Please make sure to use your official/work/company e-mail to register, enter your personal name under First name/Surname, and use only the English Language. Then click ''Create account'' at the bottom of the screen.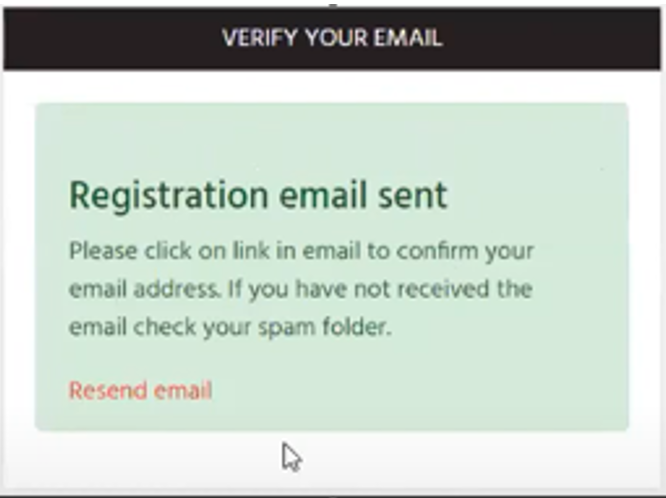 3. You will receive an automated e-mail to confirm your registered e-mail address. Please click on ''Confirm'' to set your password. If you don't find the mail in your inbox, please check your junk/spam folder.

Note: SLCP sends automated e-mails, for example after your registration on the Gateway or on the e-learning platform. If you do not receive these system-generated e-mails, please check your spam/junk folder.
To avoid issues, we recommend that you add these e-mail addresses to your trusted sender list:
If you still cannot find the confirmation e-mail in your inbox/spam folder, contact SLCP Helpdesk.
4. On the password creating page, enter the desired password and confirm your password. When ready, click ''Create''.
5. Go to the SLCP Gateway: https://gateway.slconvergence.org/login, to login to your Gateway profile using your registered e-mail and password. Your profile has not been approved yet. You can see only four options at this stage (Home, My Profile, Accounts and Get Support). Once your profile is approved, more options will be available.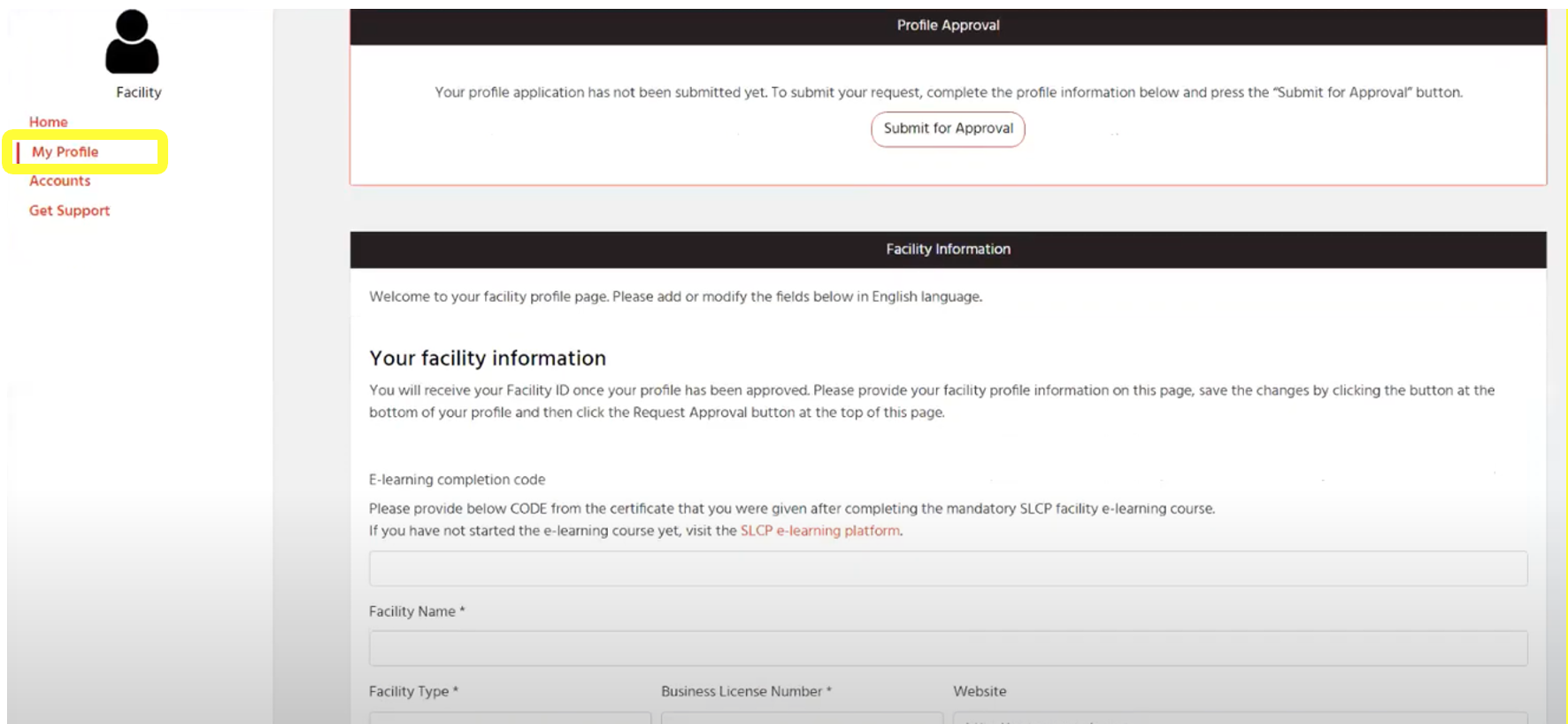 To get your profile approved, fill in your profile information.
Filling in your profile information correctly
In general, to have your Gateway profile approved, a facility must:
Not already have an approved profile on the Gateway
Be located in one of the countries/regions where SLCP is already operating – see the Gateway homepage for an updated list of countries/regions
Fill in all information in English
Put the facility name in the name field (and not an individual/employee name)
The general rules for a facility name are:
Name matches the name on business license.
If there are multiple factories under a manufacturing group, use group name first and then facility name like: - Group Name Company - Facility Name Factory- Unit no.
Name is not used by any other facility
Name must be in English.
In your Gateway profile you also need to select which languages are spoken in your facility, by both management and employees. You need to select the languages from a standardized list of languages. This information is used to match you with a Verifier that has the appropriate language skills. To be able to differentiate between dialects and to ensure inclusivity, this long list is used.
Note: Select all the languages that are spoken in your facility.
6. Include your Open Supply Hub (OS) ID and the brands you work with in your profile.
In your Gateway facility profile, you have the option to link to your buyers if they have activated the "brand assessment overview" feature on their chosen Accredited Host (AH).
To link to a brand you work with, navigate to the "brands" section in your Gateway profile. Start typing the name of the brand and select it from the list. Find detailed guidance here. If you do not see the brand you are looking for, that means that they have not yet activated this feature with their Accredited Host. When you select a brand from the list, they will see which Accredited Host you are using and the status of your assessment.
Note: you still need to provide access to your verified assessments – this will not happen automatically. For information on how to share your verified assessments, see this FAQ.
7. After filling in all the information, please do not forget to click on the "Save changes".
8. Now request approval on top of the page - Click ''Submit for Approval''.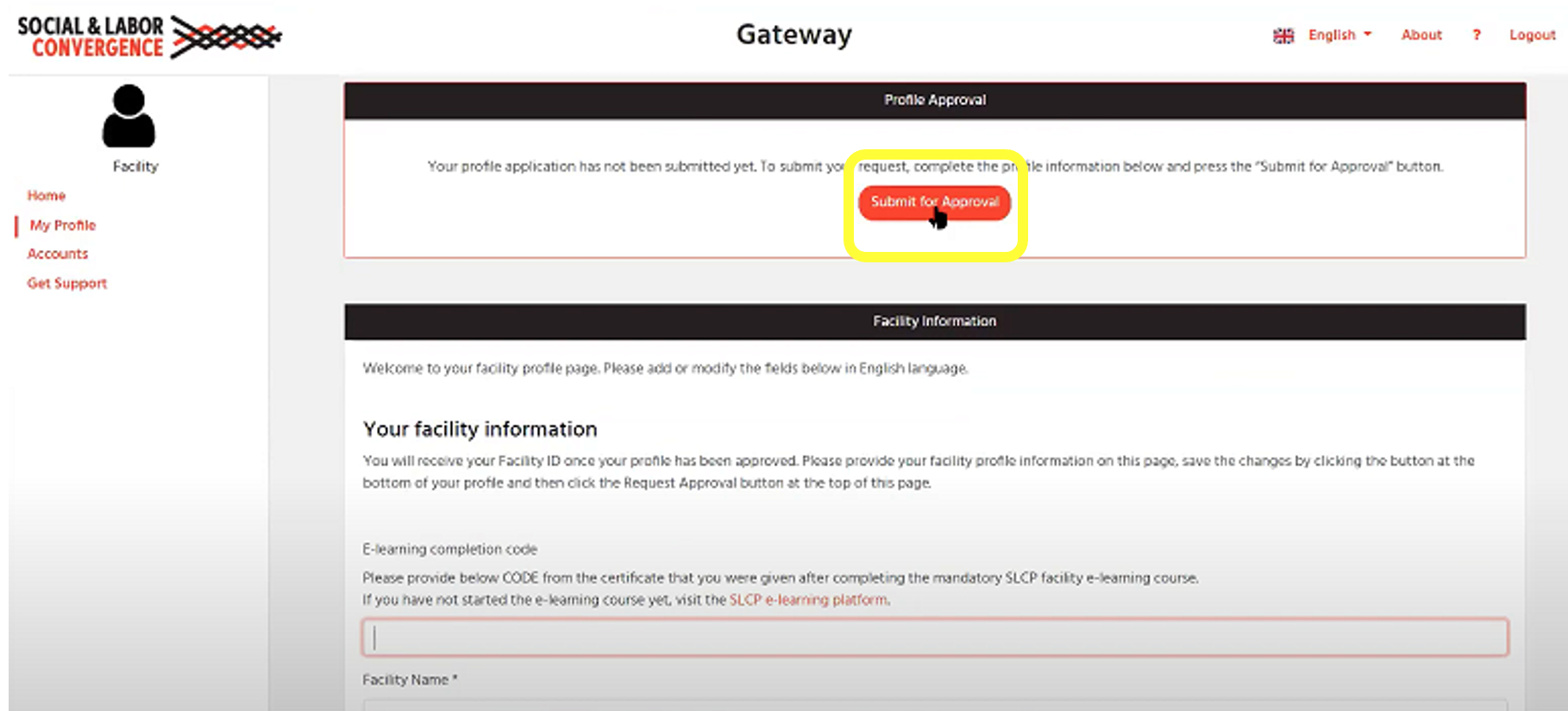 Note on the facility information after registration:
You can change all the information on the profile yourself except for the facility name & address. If you want to change the facility's name and address after creating the profile, you can contact the SLCP Helpdesk to make the request. Include a Business License when making the request.
If a facility name such as 'ABC Apparels Ltd.' is already approved on the Gateway, the same name cannot be used for another facility. It can be registered by adding a suffix: unit/plot/sector i.e., 'ABC Apparels Ltd.-unit 01'.
You can't change the registered e-mail. You can add e-mail addresses to the profile by adding colleagues to the profile.
The same user account (e-mail) cannot be used for other facilities to register on the Gateway.
It takes about 2 working days to approve the profile after it has been submitted for approval.